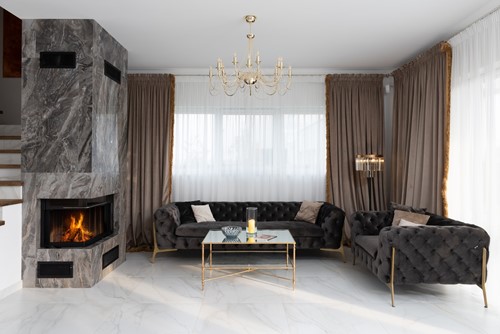 A fireplace is a highly sought-after home feature, and many homeowners want to make the most of theirs with great fireplace design. For those looking to design fireplaces for their sitting area or areas after they've been installed or have recently bought a home with a new brick fireplace, the possibilities are endless.
Here is a quick guide to some of the biggest trends in fireplace design:
Frameless fireplaces
Frameless fireplaces are a sleek and sophisticated type of fireplace without a mantel. Instead of a traditional mantel, these fireplaces often use marble, tile or stone to surround the inner chamber. Some frameless fireplaces are open or use a single sheet of glass for a seamless aesthetic and make an excellent focal point in any room.
Convertible fireplaces
If you're considering adding a new fireplace to your home, you'll need to decide between a gas or wood-burning variety. There are advantages and disadvantages to each type of fireplace, but convertible fireplaces allow you to have the best of both options. You can swap between a wood and gas fireplace with a quick process, depending on your needs and current style.
Corner fireplaces
Corner fireplaces are common in places like hotel lobbies and restaurants. However, this trend is becoming more popular in the home. Corner fireplaces are typically sleek and streamlined in style, adding a contemporary vibe to an interior.
Because they are built right into existing structural elements and walls, corner fireplaces can make a space warm and cozy without sacrificing usable space.
Indoor/Outdoor fireplaces
Versatility is a fireplace must, and the double-sided indoor-outdoor variety of fireplace is becoming more and more popular among homeowners who want to add warmth to their outdoor space.
This style of fireplace can share a wall between your living room and patio and can be enjoyed from either side, depending on your current arrangement.
Whether you find design inspiration from modern styles, natural materials or versatile functionality, your choice of fireplace can have a major impact on your home. Keep these fireplace design trends in mind to enhance your living space with light and warmth in any season.